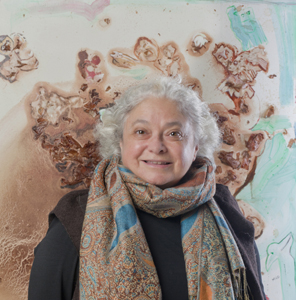 "Magic" is the word used by J Fatima Martins of ArtScope Magazine in reference to the process and content in Marsha Nouritza Odabashian's drawings and paintings. As young child she watched her mother cultivate the Armenian tradition of dyeing eggs red by boiling them in onionskins. Decades later, she splashes and pours dye-soaked onionskins onto canvas, paper and compressed cellulose sponge to create a ground for vignettes to emerge reflected in three series of drawings and paitnitngs:
Miasma
,
Skins
, and
Stir: Drawings and Paintings from the Onion Pot.
She draws upon themes such as current events, history and human rights which uniquely reflect the tension and expansiveness of being raised in dual cultures, Armenian and American.
She studies Armenian medieval art and architecture on an ongoing basis at Tufts University with Professor Christina Maranci, with whom she traveled to Aght'amar and Ani in Historic Armenia. She is the grandchild of Armenian immigrants and genocide survivors and interested in giving prominence to artistic traditions ignored in mainstream culture with a personal emphasis on feminism and her Armenian ancestry.
Her past series
Bus Stop
addresses cycles of isolation and social gathering revolving in time through drawing and painting;
Hopscotch
investigates the grid in painting and children's games;
Celestial Pantomimes
challenges conventions associated with black-and-white contrast by throwing white gesso and acrylic onto black velvet. Subsequent series include
Palimpsests
,
In the Shade of the Peacock
and
Half- Perceived: Stalking the Peacock
and draw upon medieval manuscript iconographic traditions to explore themes of modern and historical identity and memory.
EXPUNGE
and
Reliquaries
rely upon ancient, medieval and contemporary sources along with specific materials including compressed cellulose sponge, onionskin dye, children's modeling compound and acrylic paint to evoke strength and fragility, destruction and preservation of cultures and identities.
Born and raised in the Boston area, Odabashian studied drawing, painting and art history at the University of Wisconsin at Milwaukee, the Art Students' League in New York and Massachusetts College of Art. She received a BA in Art from the University of New Orleans and an MFA from the School of the Museum of Fine Arts/Tufts in Boston.
Her work has been exhibited in numerous solo and group exhibitions at galleries and museums in New England, New York, California, Louisiana and Armenia, including
The Armenian Museum of America in Watertown
, the Danforth Museum,
Galatea Fine Art
and Gallery Z. She has exhibited twice in Armenia:
New Illuminations
curated by Anna Gargarian (HAYP Pop Up) and
Road Maps
curated by Suzana Poghosyan (Honey Pump Gallery). Selected publications, which have reviewed her work, include
ArtScope
,
Art New England
,
the Boston Globe
,
Boston Art Review
,
the Armenian Weekly
,
the Mirror Spectator
,